100% online certificate course
The first SBT Leader course in ASIA. Applications open
We are proud to announce our strong partnerships for the SBT LEADER course in Asia: the SUSTENERI Group and Expert Humans in Singapore.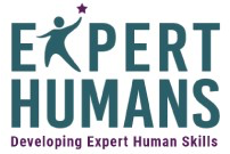 Our online certificate course to become a Sustainable Business Transformation Leader offers you profound knowledge about the social, economic and ecological challenges of sustainable transformation in the private and public sector.
>> Gain the knowledge, understanding and skills to effectively address the challenges and lead meaningful change <<
Experts in the fields of sustainable management, business transformation, impact management and responsible leadership offer you the knowledge and skills for a sustainable transformation of organizations in a practice-oriented and stimulating way.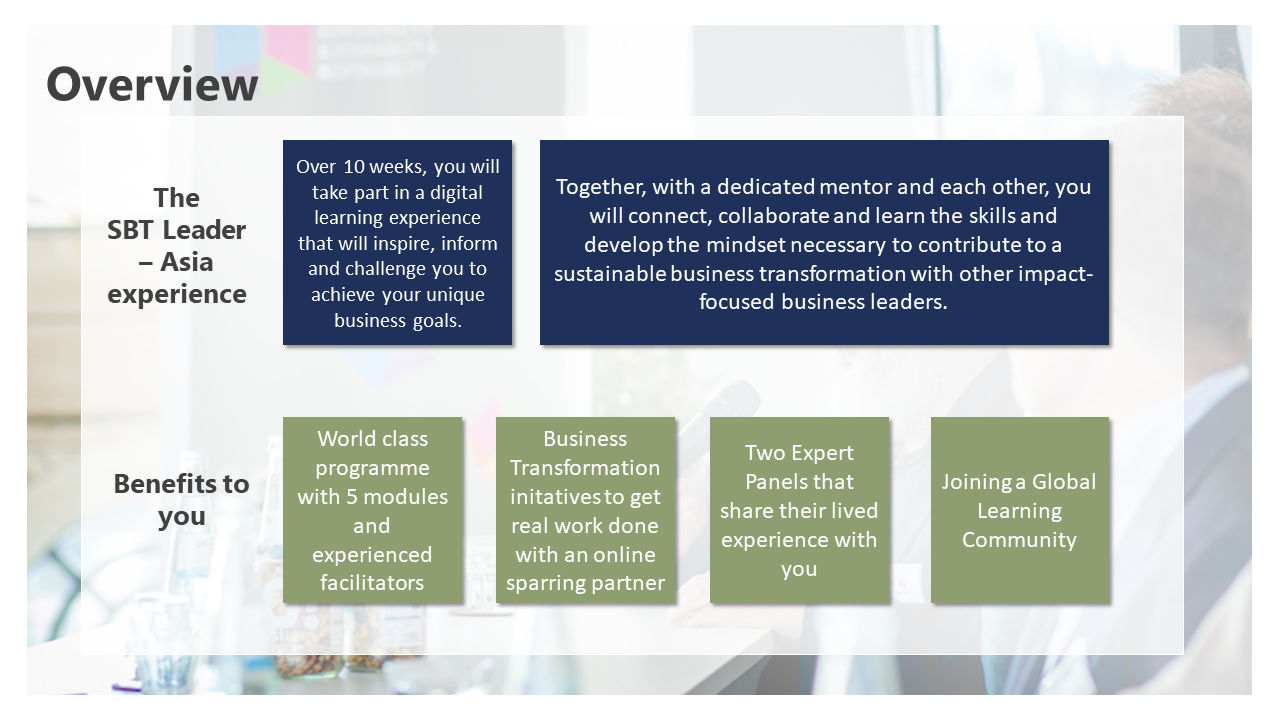 Who should attend the course?
With the Sustainable Business Transformation Leader we have developed a compact certificate course for all those who want to take the change towards a more sustainable development in their own hands.
This course is designed for professionals who want to implement sustainability in their organization and create a competitive advantage.
We provide you with the necessary mindset for a sustainable business transformation. You apply the contents to your individual business challenges and can thus establish the transfer between scientifically sound knowledge and practical implementation.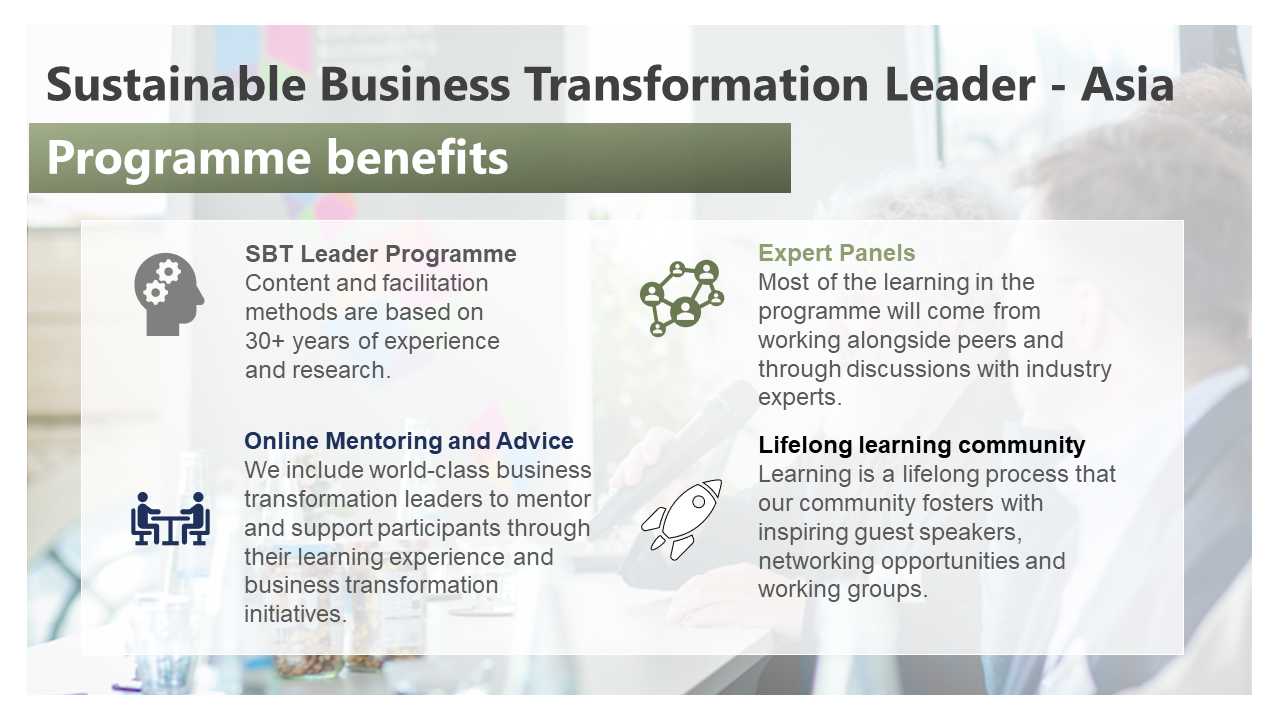 Course Curriculum
Orientation   02.03     16:00-17:30   Introduction, getting to know each other and course overview
Module 1        09.03     16:00-19:00   Sustainability challenges and their economic opportunities
Module 2        16.03     16:00-19:00   Integrative growth through sustainable management
Expert Panel 23.03  16:00-17:30  Sustainability Strategies for Organisations
Module 3      30.03  16:00-19:00       Leading meaningful change and innovation
Module 4      06.04  16:00-19:00       Integrating sustainability into corporate strategy
Module 5      13.04  16:00-19:00        Reporting & Rating
Expert Panel 20.04  16:00-17:30   The Future of Sustainability in Organisations
Transfer & Action Plan week 10         Reflection and transfer into Business Transformation Project
Final examination:                                  Written report and presentation on  business transformation initative
The modules include online live lectures, break out sessions, peer discussions, role play activities and reflections. In some cases, documents are sent out as preparation for the modules (e.g. articles, videos, podcasts), which should be reviewed before the module. Some modules contain submission tasks. For successful certification, all submissions must be handed in on time and the final exam must be passed.
Key information
Language: English
Program length: 10 weeks (5 modules + orientation + check in + final project + online mentoring +2 Expert Panel Sessions)
Study time: 30 hours online; 40 hours individual study
Program start: 2 March 2021
Platform: Zoom and online learning platform
Price: S$ 8800
Achievement: Certified Sustainable Business Transformation Leader